South Carolina Coronavirus Cases Continue to Rise
While South Carolina's economy has been reopening following coronavirus restrictions and the news related to COVID-19 has generally been positive, troubling reports have started to appear in recent days.  On May 27, the South Carolina Department of Health and Environmental Control announced that 20 people died from the coronavirus and that was the highest daily death toll yet in South Carolina.
Analyzing the number of new COVID-19 cases reported each day by DHEC since the pandemic began indicates that there has not yet been any sustained decline in the number of cases in South Carolina.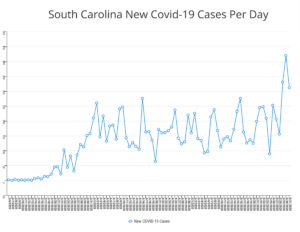 It is important to note that some of the early high daily new case numbers—for example, the 121 new cases on March 28—were elevated due to testing backlogs.  Absent those testing backlogs, many of those early high daily case numbers would have been lower.
Reviewing the daily new case numbers just for May highlights that there has been no sustained decline in the number of cases and the trend line indicates that the number of cases actually continues to rise.  In other words, while the number of new cases per day fluctuated up and down each day in May, overall the number of cases went up over the course of May.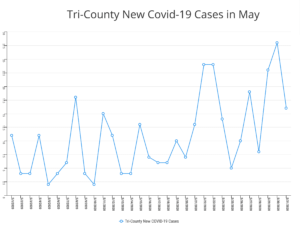 The same holds true looking just at the data for the tri-county region of Charleston, Dorchester, and Berkeley counties.  The new cases per day data for those three counties since the pandemic began in South Carolina shows that there has been no sustained decline in the new case numbers.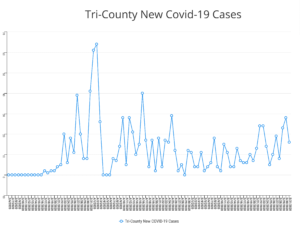 Looking at the new cases per day data for those three counties over just the course of May indicates that not only has there been no sustained decline in the number of new coronavirus cases in the Charleston area, the number of new cases actually continues to climb as shown by the trendline in the chart.
These trends are occurring at the same time that some restrictions are being lifted, more people are returning to their workplaces and eating in restaurants, and as a result, more interactions are occurring that can allow transmission of the virus from one person to another. As Emily Bohatch with the State newspaper reports: "That could mean that the virus is spreading
more rapidly than in weeks past, as the economy reopens and people worry less about adhering to social distancing guidelines."

These trends are also occurring as South Carolina receives bad economic news. On May 27, Boeing announced that it will layoff 6,700 employees including an unknown number of
employees at Boeing's Charleston area facilities. News reports predict the number of cuts at Boeing's South Carolina facilities will total around 1,000 jobs.
However, there is also some positive news in that the lethality of the virus is now believed to be lower than originally expected while still many times more deadly than the seasonal flu. NPR reports that recent results from antibody testing indicate that many more people than previously known have had the coronavirus but not sought medical treatment. Those results indicate that a large number of people have contracted the virus without any serious complications.