Workers' comp settlement for client paralyzed following surgery after lifting a heavy scale
The rules governing workers' compensation vary from state to state, and it's important to know how the process will work for you.
For a free case review, call us at 843-720-2800.
Our dedication shows in our results.
How to File a Workers' Compensation Claim in South Carolina
Personal Injury Lawyers Representing Charleston & Nearby Areas of South Carolina
At Steinberg Law Firm, we deal with South Carolina's workers' comp regulations all the time, and are happy to share our knowledge with people who have recently been injured on the job and need to file a claim.
The steps listed below provide a good idea of the deadlines and regulations you should expect when filing for workers' compensation. However, you may find that the circumstances of your case make the process more complicated. To help you understand all your options, contact the workers' compensation attorneys at Steinberg Law Firm by calling 843-720-2800. We'll look over your case for free and help you decide what to do next.
You can trust our clients:
I would rate Steinberg Law Firm number one! Their dedication and tireless commitment to their clients is what a client needs and expects when dealing with personal injuries in the workplace. Their experience with Workers Compensation is invaluable and it results in forcing the employer and their insurance to treat the client fairly. - Debra
I was injured on the job. What should I do first?
Inform Your Employer of Your Injury
If you have been injured on the job, your first priority is to seek medical treatment for your injury. Once your injury has received medical attention, you should inform your employer as soon as possible, preferably in writing. South Carolina states that you must inform your employer within 90 days of  the injury to receive benefits.
Filing a Claim After a Work Injury
After notifying your employer of your work injury, you will have two years to file a workers' comp claim.
Ideally, however, your employer will file a claim on your behalf. They have 10 days from the day you inform them of your injury to file a claim with the Workers' Compensation Commission. Otherwise, filing a claim will be up to you or your lawyer.
You may need to file a claim yourself if:
Your employer denies responsibility for your injury.
Your employer does not report your injury within 10 days.
You don't think you've received all the benefits you are owed.
There is no downside to having your questions answered. The initial consultation is free.
A workers' compensation attorney is especially helpful In cases where your employer disputes your injury or neglects to report it. Getting workers' comp is difficult when your employer refuses to cooperate, but effective legal representation can ensure that your rights under state law are not violated.
Receiving Benefits for Your Injury
Most employees in South Carolina have workers' compensation benefits.
Once your claim has been received, it will be reviewed and benefits will be rewarded to you according to the commission's decision. Benefits are calculated based on the nature of the injury you receive, and there is a seven-day waiting period before you may begin receiving benefits.
Benefits will generally cover your medical expenses and two-thirds of your average wage, and will end after a set amount of time depending on the injury, or they will end whenever you are cleared by your doctor to return to work.
Requesting a Workers' Compensation Hearing
When your claim comes back from the Workers' Compensation Commission, the news may not be good. The commission may have underestimated your injuries or misunderstood the nature of your work, and awarded you less than you believe you are entitled to. In such cases, you are entitled to a hearing where you may argue your case to the commission.
At a workers' compensation hearing, an experienced lawyer can:
Cross-examine witnesses at the hearing
Compile and produce evidence prior to the hearing
Guide you through the deposition process
Appeal the decision if the commission decides against you
Present opening and closing statements to the commission
Help you prepare for the hearing
This is where a good workers' compensation attorney can really come in handy. At Steinberg Law Firm, our attorneys have lots of experience with workers' compensation hearings, and they can help you gather evidence, file the correct forms, and present your case before the commission.
WE HAVE RECOVERED OVER $500 MILLION FOR CLIENTS IN THE LAST 10 YEARS, INCLUDING:
Claim for overtime and unpaid wages
Trust - The Steinberg Law Firm
Choosing the Steinberg Law Firm
Finally, if you do not agree with the decision the South Carolina Workers' Compensation Commission arrives at for your case, your workers' compensation attorney can help you appeal the decision. You must file this appeal within 14 days of receiving the commission's initial judgment. Your appeal will be made to a panel of three commissioners.
You may have already attempted to represent yourself at the hearing, and had difficulties making your case in a manner the commission found persuasive. If you have not already hired an attorney for your workers' comp case, it's a good idea to do so before your appeal. You have a limited number of courts to appeal to, and the sooner you get a lawyer to help with your case, the better your chances of receiving substantial compensation for your work injury.
The Steinberg Law Firm is Here to Help
Whether you want an experienced and professional attorney to be at your side throughout the workers' compensation process, or whether your workers' comp claim is being held up by an employer, insurer, or hearing request, Steinberg Law Firm will bring our considerable reputation and experience to bear on your workers' compensation case. We make a point of fighting hard for our clients, and will treat your workers' comp claim as though our own future depended on it.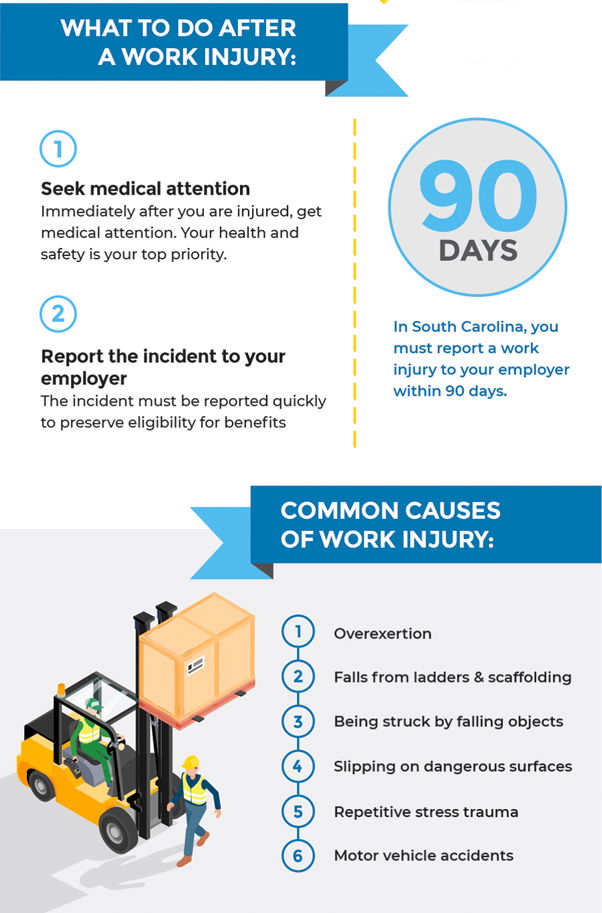 Charleston's Workers' Comp Attorneys - Here to Help
For a free review of your case, call us at 843-720-2800
With our years of collective experience in employment law, the workers' compensation attorneys at Steinberg Law Firm are your best option when you need help filing a claim or dealing with unhelpful employers and insurance companies. We know that you deserve fair treatment following a work injury, and will do everything in our power to secure that for you.
To set up a free case review with the Charleston attorneys at Steinberg Law Firm, contact us by calling 843-720-2800. We serve clients in Charleston, Summerville, Goose Creek, and throughout the state of South Carolina.