Attorney Elliotte Quinn Joins Dorchester Paws Board of Directors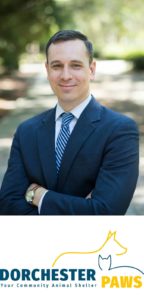 SUMMERVILLE, S.C. – The Steinberg Law Firm announces the newest addition to their legal team, construction law attorney Elliotte Quinn, joined the board of directors for Dorchester Paws. Already an active member in the community, Quinn is excited to delve into his role on the Board in addition to his ongoing involvement in the organization's Capital Campaign Committee.
"I'm so impressed by the work that Dorchester Paws does," he said. "The organization takes a big picture approach to addressing overpopulation, pet ownership, euthanasia, and animal abuse."
Dorchester Paws is the only open-admission animal shelter in Dorchester County. The non-profit partners with local government to address lost, abandoned, and abused animals through medical attention, shelter, and adoption by local families and through partners in other states. Dorchester Paws is part of the "No Kill South Carolina Coalition" and is committed to ending unnecessary euthanasia.
A Lowcountry native, Quinn is familiar with the struggles faced by shelters, having two shelter dogs as pets himself. He believes Dorchester Paws can and will significantly reduce the number of homeless animals through expanding adoption, spaying, and neutering programs.
With community support, a dedicated team of volunteers, and a compassionate, dynamic staff, Dorchester Paws continually strives to achieve its core goals:
●Ending unnecessary euthanasia;
●Combating overpopulation through spaying and neutering;
●Championing responsible pet ownership through public education;
●Feeding the hungry, sheltering the homeless, and protecting the abused; and
●Reuniting lost pets with their families and finding homes for strays.
To further this mission, the organization puts on many events each year, including the upcoming PetSmart Charities National Adoption Weekend at the end of September and the Lowcountry Paws Pet Expo on October 13th.
Dorchester Paws is always looking for adopter, donors, fosters, and volunteers. Through the Foster Hero program, Dorchester Paws promotes and recognizes fosters, without whom the organization would not be able to help nearly as many animals.
The Steinberg Law Firm is proud to support Dorchester Paws and will continue its history of sponsoring the organization, and is excited for this new level of involvement through Elliotte Quinn's service on the organization's Board.