Operation Home Honors Steven Goldberg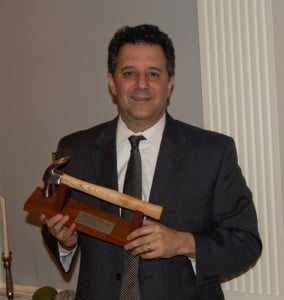 During a business meeting of Operation Home in December, the organization honored Steven Goldberg for his service over the past two years as President of its Board of Directors.
Operation Home is a local charitable organization whose mission is to help people remain in their homes by increasing safety and accessibility. Operation Home focuses on critical home repairs including wheelchair ramps, heat and cold relief programs, and remedial repairs such as fixing leaking roofs and unstable flooring. Operation Home serves the tri-county area.
While Steven was president of Operation Home, more than 300 families were helped in various ways by the organization. Steven, along with the other Board of Directors, led the organization in hiring a full time executive director and increased the budget from $300,000 to $600,000. He joined the Board of Directors in 2007 where he worked in various roles, including Treasurer, Vice-President and President of the Board. Steven continues to serve as an ad-hoc member of the Board of Directors.