Announcing Recipients of 2018 Community Fund
The Steinberg Law Firm thrives when its community does. The belief that our firm is capable of creating change, and moving our ecosystem forward, runs through each Steinberg employee, and has since our beginning in 1927.
Through the Steinberg Community Fund Program, our firm is able to provide financial support to nonprofit organizations in the Lowcountry area. The funding distributed through the program allows organizations in our area to further their charitable work. Steinberg Law Firm employees are given the opportunity to select the organizations that are most important to them to receive financial support.
In 2018, we have selected a diverse array of nonprofit organizations that are working to improve the welfare of veterans that have served our country, adult and adolescent females with education and resources, and improving the lives of children with disabilities.
Below is a list of the nonprofit organizations that have been selected for the Steinberg Law Firm Community Fund Program in 2018. We have detailed a summary of how each organization will use the financial gifts to continue their missions. Click each company name to explore their website and find out more about them.
Tri-County Veterans Support Group is a coalition comprised of many veteran service agencies from across the Charleston Tri-County area. They are committed to collaboratively working together to identify veterans and families in crisis in our community and help them navigate their way to stability.
The amazing groups that participate in collaboration with this organization are able to provide many different kinds of support for the veterans in the community, ranging from housing, employment, education, and spiritual support. In 2017, they identified and served 934 veterans and families in crisis. The Steinberg Law Firm has donated funds to aid the cost of a new roof for one of their veteran housing units.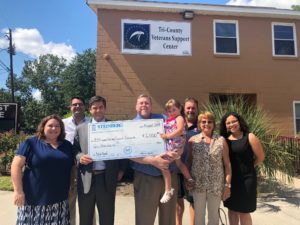 Fields to Families has an extremely simple mission. They believe everyone deserves access to fresh produce—end of story! They diligently work with local farmers, transportation services, and partner agencies to close the gap between those with insecure access to fresh produce, and put fresh produce on their table, free of charge.
In 2017, Fields to Families distributed 80,000 pounds of fresh local produce to those in need. We are excited to be able to support their 2018 campaign efforts, where they have goals of improving their systems and providing for more people in the Charleston area.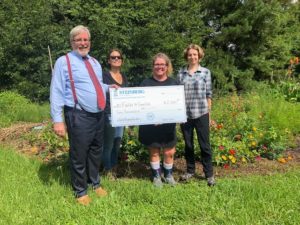 My Sister's House provides services and resources to empower victims domestic violence and their children to live free from abuse. Empowerment, educational resources and outreach, and support groups are just a start to the services they provide to program participants.
Through their partnership with South Carolina Coalition Against Domestic Violence and Sexual Assault (SCCADVASA), My Sister's House aims to break the cycle of domestic abuse in the Charleston area, then expanding to the entire state of South Carolina. Our donation through the Community Fund Program will cover the costs of meals for women and children staying in their shelter.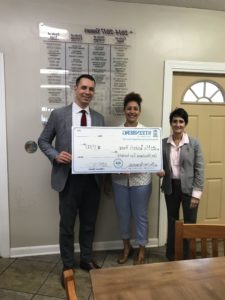 Camp Happy Days helps families that have a child diagnosed with cancer. Our donation will be used to help cover the cost of rent, gas, groceries, and other expenses for families with a child in their program going through cancer treatment.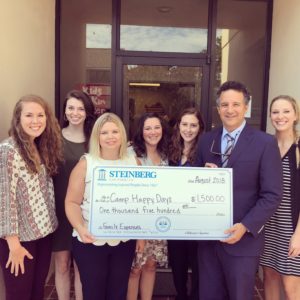 The Doors to Freedom initiative provides a safe space for adolescent, female survivors of sex trafficking. Their mission offers opportunities for education and growth so females in the program can move forward and take independent control of their lives. With the funding from the Steinberg Community Fund, Doors to Freedom will send ten girls on six field trips throughout the year. This donation covers the field trip costs for tickets, food and travel.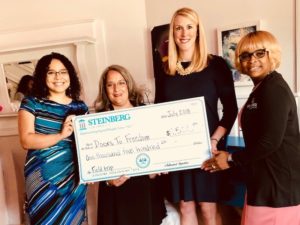 Youth Empowerment Services, Inc. (Y.E.S.) empowers middle and high school girls through teaching them values to help discover, embrace and appreciate their self-worth, leading to a healthy and productive lifestyle. They provide a multitude of initiatives to serve program participants through small groups, educational presentations, and parent counseling.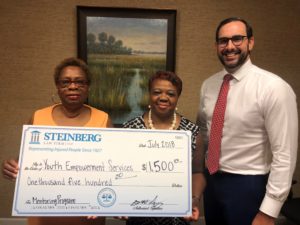 Our donation will be used towards their annual Dream Girls Conference. This dynamic conference is specifically designed for at-risk, middle and high school girls. Its goal is to empower them with strategies and resources to make healthy, confident decisions to enhance their mental, social, spiritual and emotional health and well-being.
Tricounty Family Ministries provides a safe, compassionate, empowering environment for basic needs and vital programs to the vulnerable, working poor, and at-risk community. They allocate their efforts to educating, guiding and inspiring guests in their program to a lifestyle of stability and self-sustainability. The Steinberg Community Fund Program will support their Healing Hand Ministries, which provides elderly clients with prescription bifocals.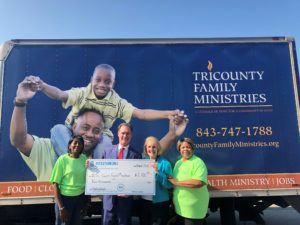 Camp Rise Above (CRA) provides life-changing camp experiences to children with serious illnesses, disabilities and life challenges. They believe that all children, regardless of their medical status, should be able to enjoy childhood. We are pleased to be able to support the expansion of the Camp Rise Above summer camp sessions at James Island County Park. These sessions will serve over 200 campers from more than 12 unique disease entities.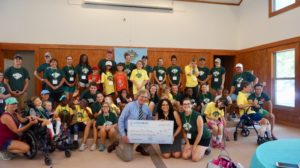 Looking toward a bright future, CRA plans to construct a permanent camp facility with fully accessible cabins, recreation building, climbing wall, high ropes course, and a state-of the-art medical facility.
Lowcountry Orphan Relief provides support services and aid to meet the needs of Lowcountry children identified as at-risk or suffering from abandonment, abuse and/or neglect. Last year, the Lowcountry Orphan Relief initiative helped over 3,000 orphans in our area though child events, food & clothing donations, and critical counseling and mental health support. Through the Community Fund Program, the Steinberg Law Firm will be able to financially support to cost of the supplies needed for children in foster care.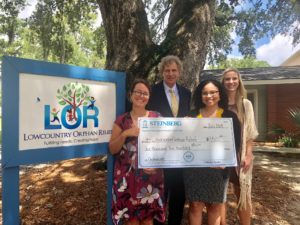 Our firm endlessly thanks these organizations for their outstanding impact in our community. You can learn more about, donate your time, or make a monetary donation to any of the organizations above by clicking their name.
Keep up with our hashtag #steinbergcares on social media to follow along with us as we visit each of these dedicated nonprofits & see how they will use the donation to their program.
If you have inquiries about the Steinberg Community Fund Program, please contact Yani at ysmith@steinberglawfirm.com or visit the website.
Eligibility:
Applications for support through the Steinberg Law Firm Community Fund are accepted throughout the year and considered on a quarterly basis, with decisions announced in the summer or fall of each year. Grants range from $200 – $2,500.
Submissions must be focused on education, veterans, youth or women's welfare, literacy, health care or workforce development to be considered for funding.
Eligibility: Applications are accepted for non-profits that are:
Local
Recognized by the I.R.S. as a public charity, exempt from income tax with a 501(c)(3) public charity
Not a political or lobbying organization
Non-profit organizations that have questions are invited to submit an inquiry at:
https://www.steinberglawfirm.com/giving-back/community-fund-application