Residential Property Disclosure Requirements
What defects or conditions does the seller of my home have to disclose to me and what is the South Carolina Residential Property Condition Disclosure Act?
The South Carolina Residential Property Condition Disclosure Act, the "Act," is a statute that requires that every seller of a residence must complete a statement disclosing any problems in the residence and provide a copy of the statement to a purchaser of the property.  The seller must provide the disclosure statement to the purchaser before the parties sign a contract for the sale of the property.
The South Carolina Real Estate Commission oversees the property condition disclosure process and publishes the disclosure statement form sellers must complete when selling a home.[1]  The form covers eight areas of issues with a property, including:
Water and sewer;
Foundation, floors, roof, and other structural components;
Plumbing, electrical, and HVAC;
Termites, rot, and fungus;
Building code, zoning, and HOA covenants violations; and
Hazardous materials or contaminants.
The statute does not apply to certain exempted sales, including most notably the initial sale of a newly constructed residence.
If a seller discloses false, incomplete, or misleading information on the disclosure statement or otherwise fails to comply with the Act, the seller is liable for the damages the purchaser suffers as a result.  The seller also may be liable for the purchaser's attorney's fees incurred in pursuing claims against the seller.
Also, the seller's real estate agent is liable for the purchaser's damages if the agent knew or should have known that the information on the seller's disclosure statement was false, incomplete, or misleading.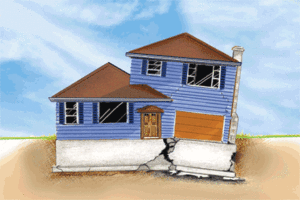 Talk to a construction defect lawyer in Charleston for free
If you are suffering from construction problems in your home, the last thing you need is to spend more money trying to get the builder to fix the problem. If your home has sustained property damage resulting from a construction defect, our construction defect lawyers know what it takes to help you pursue aggressive action against the liable party. Contact the Steinberg Law Firm or call us at 843-720-2800 to speak with someone about your construction defect claim for FREE. The initial consultation is completely confidential, no obligation, and at no cost to you.  Our phones are answered day or night – 24/7/365 – and our legal staff is standing by to help you right now.
At the Steinberg Law Firm, we take construction cases on a contingency basis. That means that the client does not pay us for our work as the case is ongoing. Instead, we are paid a portion of any money recovered through the lawsuit. If we recover nothing for a client, we are paid nothing. We take on the risk of there being no money recovered
[1] The Residential Property Condition Disclosure Statement form is available at: https://www.llr.sc.gov/POL/REC/RECPDF/Property%20Condition%20Disclosure%20Statement.pdf.