Safety Tips for School Travel
The first day of school is just around the corner! Students will be out and about on their way to and from school each day.
Sending your child off to school can be a stressful event. Making sure that your student is properly prepared to stay safe on their journey can ease some of that stress.
Whether your child will be commuting to school or practice via bus, car, or foot, it is important to remind them of these safety tips before they head out to the first day of class:
School Bus Transportation: Establish clear, safety guidelines for any child taking the bus: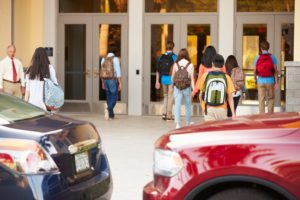 Determine the safest route for getting your child to and from the bus stop.
Have your child stand 5 giant steps from the curb when waiting for their bus.
Never run after a bus that is in motion. This is extremely dangerous as your child could easily enter the bus's blind spot area. The blind spot area on a school bus is anywhere within 10ft of the bus and extends even farther behind the bus. Have your child arrive at the bus stop with plenty of time so they are not rushed or hurried into an unsafe situation.
Use extra caution when crossing in front of a school bus. In the latest survey across the nation, 29 states participated in documenting how many times vehicles illegally pass a school bus that has their stop arm down. On a single day, school bus drivers reported a total of 77,972 illegal passes by the Bus Stop Arm.
That's nearly 80,000 times that a child is put at risk of being struck by a vehicle that was illegally passing.
If your child has to cross a street to board a school bus, be sure to teach them that:
They should take at least 5 large steps, at least 10 feet, in front of the bus before crossing.
They should make clear eye contact with the bus driver before stepping into the street.
They should stop and look both ways once they have reached the edge of the bus for any vehicles that may illegally cross the Bus Stop Arm.
Foot Travel: If your child will be walking to school, utilize these safety tips:
Find the safest route for your child to walk to and from school. It is a good idea to walk the route with your student to ensure that all streets have crosswalks or traffic lights that will safely let your child cross.
Always be attentive. If your child's route includes walking near a busy road or intersection, remind them that listening to headphones can be dangerous because it reduces the sound of vehicles and dangerous scenarios, making them less alert.
Driving: Remind your child of these responsibilities when driving to or from school:
Buckle everyone up before moving. South Carolina Law requires that drivers AND every occupant inside be fastened in their seatbelt. If this doesn't convince them to buckle up, remind your child that they are liable for every person under the age of 18 in the car. Meaning that if your child is driving and one of their friends isn't buckled, your child is responsible for the ticket.
Always remember that other students are also traveling to and from school. If your child parks their vehicle near school property, remind them to be aware that there are pedestrians and buses flowing in and out of the same pickup area.
We hope everyone will do their part in keeping our children safe during the school year, but we know accidents happen. To read more safety tips, visit our other blogs for more information!
If you or your child is injured in a car accident, bus accident, or while walking to school, seek medical attention immediately. Our experienced personal injury attorneys can help you understand your rights as an accident victim, and help you file a personal injury claim. Call 843-720-2800 for a free consultation, or visit one of our offices in Goose Creek, Summerville, or Downtown Charleston to speak to an attorney today.