Taylor Grooms Joins Steinberg Law Firm, LLC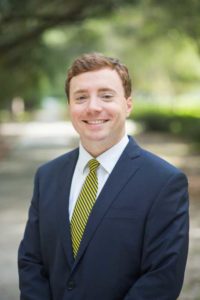 The Partners of the Steinberg Law Firm, LLC have announced that Taylor Lawrence Grooms has joined the law firm as an Associate attorney. Grooms will be working with the firm's Personal Injury practice group at the Goose Creek office where he will be fighting for the rights of the injured.
Grooms is a native of Berkeley County and was born and raised in Bonneau, South Carolina. He is an Honor Graduate of Timberland High School, thereafter attending Clemson University and earning a Bachelor of Science degree in Political Science. After graduating college, Grooms was accepted into the University Of South Carolina School Of Law where he graduated with Cum Laude honors and made the Dean's List for five consecutive semesters.
Upon graduating from the University Of South Carolina School Of Law, Grooms served as a Judicial Law Clerk for the Honorable Roger M. Young, Sr. in Charleston. While clerking, Grooms participated in over a dozen jury trials that came to a verdict. As a result, he has broad experience in the jury trial process- having witnessed and advised on numerous pre-trial motions, directed verdict motions, and post-trial motions. He was also responsible for crafting jury instructions and voir dire for a range of cases, and researching and drafting decisions relating to summary judgment motions, motions to reconsider, motions to compel, and decisions on evidentiary matters. All of this trial work allowed Grooms to gain invaluable courtroom experience in many areas of the law, including personal injury, business, product liability, and criminal litigation.
Being injured at the hands of someone else's negligence can completely disrupt your life. You may feel like there are more questions than answers and you do not know where to turn next. As part of Steinberg Law Firm's Personal Injury practice group, Grooms will be there to listen with compassion and honesty and answer your questions in order to help you receive the compensation you deserve. Whether it be a motor vehicle crash, a slip and fall, a work injury, or other injury, Grooms will fight hard against the insurance companies for you to help ensure you are fairly and adequately compensated for your loss.